Brighten Up New Home Basements
Contact us to learn more about our array of profit-generating products designed to upgrade basements at low cost.
BrightWall® paneling is a low-cost way to turn a drab basement into a light-filled space.
Building a CactusBoard-protected home ensures that the basement will remain dry. It also opens the door to a wide variety of other upgrades that new homeowners love.
For example, you can offer a finished basement upgrade – without having to worry about any groundwater ruining it during the next rainy season.
Or perhaps you can simply give your clients a brighter, more comfortable space for normal basement activities – like doing the laundry, making household repairs, or storing items during the off season.
Please check out our catalog for products that can assist you in transforming raw basement space to semi-finished spaces at low cost.
Our Waterproof Product Offerings Include: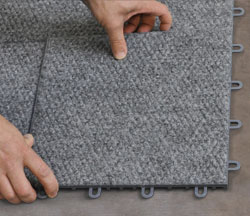 ThermalDry® flooring options include ceramic and wood look-alikes, as well as modular carpet squares.
Basement flooring: Check out our ThermalDry® basement floor systems. These modular tiles are raised slightly off the floor to provide a thermal barrier and to allow any dampness to dissipate. In the event of flooding, they can be removed, wiped clean, and replaced. Water will not damage them!
Basement walls: In a modern, well-constructed basement, walls are typically square enough to install directly to the poor concrete or block. We offer two grades, BrightWall® and ZenWall™. The former is white, while the later has a linen light finish.
Basement windows: When building a new home, specify for our EverLast™ basement windows. They are double-paned with a Low-E glass coating and set in all-vinyl frames that will last for decades without rotting or needing paint.
Dehumidification: Don't leave a homeowner without a way to rid there new home of the inevitable moisture and damage that accumulates in most basements. Our SaniDry™ dehumidifiers will keep humidity levels to a safe level during the warm seasons. Mold will not grow, fungus will not be able to cause rot, and the air throughout the home will stay healthy.
Crack repair: Concrete shrinks as it cures. Sometimes cracks will mar an otherwise perfectly fine pour. Check out our patented foundation crack repair system. Called FlexiSpan®, it is flexible enough to permanently fix cracks, even with continued wall movement.